What was Jesus' real name in his aramaic language?
Thank you.
Dave
_____________
Dave,
As far as we can tell, Jesus' name in the Aramaic of his day was Yeshua, which corresponds to the Joshua of the Old Testament (Yĕhowshuwa`). An indication that we're on the right track is found in Acts 7:44-6,
"Our fathers had the tabernacle of witness in the wilderness, as he had appointed, speaking unto Moses, that he should make it according to the fashion that he had seen. Which also our fathers that came after brought in with Jesus into the possession of the Gentiles, whom God drave out before the face of our fathers, unto the days of David; Who found favour before God, and desired to find a tabernacle for the God of Jacob."
Read that a few times and you'll realize the Jesus mentioned here is that Joshua who succeeded Moses in leading the children of Israel into the Promised Land.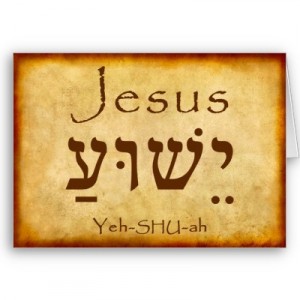 The name Joshua means "Jehovah is salvation", and is based on the root yasha`, which means "to save" or "to deliver". Both angels and the vilest of men used this as a play on words. When the angel greeted the shepherds, they identified which of all the children born that night was their Messiah, "For unto you is born this day in the city of David a Saviour (yasha), which is Christ the Lord" (Luke 2:11). On the cross detractors taunted, "He trusted in God; let him deliver him now, if he will have him: for he said, I am the Son of God" (Matthew 27:43), or in other words, "Yeshua (Yahweh + yasha) trusted in Yahweh, let Yahweh yasha him now, if he will have him."
-Gramps