Question
Gramps,
In the church, we are taught that there are seven dispensation heads. Adam, Enoch, Noah, Abraham, Moses, Jesus Christ and His Apostles, and Joseph Smith.  If a dispensation is a time when the Lord dispenses His gospel anew, why was it necessary with Enoch, Noah, Abraham, and Moses?  Each one was living in a time when the priesthood was upon the earth.
Kevin
Answer
Kevin,
I don't always hang my hat on a particular word in a definition.  But in this case I believe slightly different wording may help with the answer you seek.
A dispensation of the gospel is a period of time in which the Lord has at least one authorized servant on the earth who bears the holy priesthood and the keys, and who has a divine commission to dispense the gospel to the inhabitants of the earth. When this occurs, the gospel is revealed anew so that people of that dispensation do not have to depend basically on past dispensations for knowledge of the plan of salvation.
Notice that it says the gospel is revealed.  It does not say that the priesthood is brought back to earth.  So, the priesthood being absent from the whole earth is not a prerequisite for a new dispensation.  But what triggers a new dispensation?
A dispensation always comes after a period of darkness — an apostasy.  Between each dispensation, there was a great falling away by the vast majority of the people.  In previous dispensations, it was not as complete as the "Great" apostasy.  That's why it was called the "Great Apostasy".  While it may be true that the priesthood keys weren't completely taken off of the earth during previous apostasies, it is apparent that the structure of the Kingdom of God on earth ceased to function.
(Note: the following birth years and ordination ages are derived from Moses 6 and D&C 107. I have provided the following graphic to show in yellow how long a person lived before priesthood ordination. Orange denotes the same information, but for dispensational heads. The numbers are the year of the event, not the age of the person. The scriptures suggest an apostasy was in place around 610 and 1130 (these dates are fuzzy, but you can see this in the accounts of Enoch and Noah, as well as by looking at who performs ordinations and when). You may wish to create a similar table or graphic on your own to help you more fully understand the timeline.)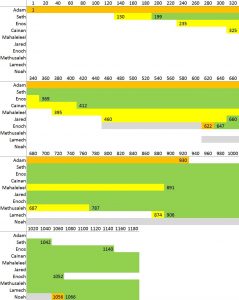 Adam was still alive when Enoch was born (see Genesis 5 and Moses 6, Adam was 622 and had another 308 years to go).  But by the time Enoch was ordained by Adam, something had already disrupted the conferral of priesthood authority. Adam ordained Seth, Enos, and Cainan. He then skipped over Mahalaleel and Jared before ordaining Enoch at the relatively young age of 25.
It had not only been several generations, but it was several generations of people who lived for over 900 years.  I tend to believe that when you live that long you have a lot of kids.  And during that time, your kids have lots of kids and so on.  There were a lot of people.  And they were spread out over the whole face of the earth (see Moses 6:17 for an example of a family relocating and settling a new land).  Without telecommunications, how was the gospel preached?  By additional prophets being called to different areas.  Enoch was one such prophet.  He was probably called to preach the gospel to people in a far off land, introducing himself as the seer from Cainan (Moses 6:41-41). These people were far enough removed from Enos' settlement that they didn't recognize Enoch and had to send a messenger to inquire after Enoch's origins. They were far removed spiritually and physically from their roots. Even as far back as the days of Seth "Satan had great dominion among men, and raged in their hearts; and from thenceforth came wars and bloodshed; and a man's hand was against his own brother, in administering death, because of secret works, seeking for power." (Moses 6:15).  Thus they were in an apostasy.  Enoch was called upon to reveal the word of the Lord to those who no longer had the gospel.  Thus it was "another" dispensing of the Lord's power, word, Spirit, etc. in a time and place where people didn't have it.
Similar things could be said of each dispensation.  While Priesthood was not taken off the earth, there was a dearth of gospel teaching, knowledge, understanding, and living.
In Noah's time the apostasy was almost complete. Instead of receiving his ordination from Seth (as Lamech did), or Enos, or any of his other contemporaries, he was ordained by Methuselah. It appears that Enoch's descendants who stayed behind remained removed from their ancestral homes, or perhaps those lands were rife with apostasy and not fit for a visit from a seeker of righteousness. Or some combination of the two.  Regardless, whether through death or apostasy of the righteous, all but eight souls denied the gospel.  Surviving the flood, Noah's dispensation revealed anew the gospel to the next generation.
Abraham is a strange case: something of a Noah, and the reverse of Enoch. He was one of the last of the righteous to remain in his land. His father was an idolator, yet somehow Abraham learned enough about the covenants of the fathers that he was "a follower of righteousness, desiring … to be a greater follower of righteousness, and to … be a father of many nations, a prince of peace, and desiring to receive instructions, and to keep the commandments of God" He sought for, and "became a rightful heir, a High Priest, holding the right belonging to the fathers." (Abraham 1:2). Where Enoch went out to teach Adam's descendants the truths they lost, Abraham was called from outside to seek after preachers of righteousness among the children of Noah. He received the keys from Melchizedek before Salem was translated. Like Noah following the flood, Abraham was left to begin anew. A new dispensation was born.
And so on and so on through all generations of time, from dispensation to dispensation.
So, it would appear that priesthood authority or keys were actually continued through each of these other dispensations and apostasies.  When "mini-apostasies" occur, a new dispensation isn't always required.  But as the Bible Dictionary calls out, there is a fresh "dispensing" of a new revelation. Adam revealed the gospel and priesthood to his children; Enoch revealed the gospel to a people who had wandered spiritually and physically from their founding; Noah (like Adam) revealed the gospel to a new population; Abraham received the gospel while away from the fathers who had it, but after receiving authority dispensed a fresh revelation to other strangers in his strange land; Moses received a special revelation to mete out to a covenant people who had forgotten to observe the Sabbath. When the Lord deems the need due to population, duration, geography, wickedness, etc. He will declare a new prophet and provide a new dispensation of an outpouring of the Spirit.  This is how he can raise up from the very rock, servants unto Himself (Matthew 3:9).
Our dispensation was unique.  There were no keys or authority on the earth immediately prior to Joseph Smith.  So, part of the dispensing of the gospel was the restoration of keys and authority.  That truly was a dark age.  Now we have the light returned to earth.  And what a blessed time it is to live in the Dispensation of the Fullness of Times.  All things shall be fulfilled here and now.
May the Lord make it so.
Gramps