What kind of weapons do you think angels use?
Righteous
_____________
Dear Righteous,
In the scriptures angels wield all manner of metaphoric weaponry. Predating sci-fi by several thousands of years, the author of Genesis tells us that the cherubim guarding the way to the tree of life is heavily equipped with a flaming sword that "turned every way" (Gen 3:24). The angels of Revelation are described with ordnance of a biological and meteorological nature (Rev 16). Seven angels each have a vial with devastating power: sores, water poisoning, extreme heat, pain and darkness, drought, and storms.
On a more serious note, Nephi and John tell us of the awesome force angels carry, but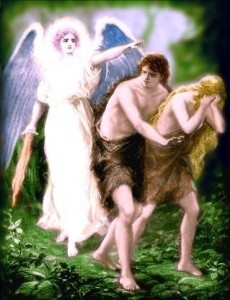 first I have to remind you of Alma. Alma and the sons of Mosiah were a bunch of bad apples who turned their backs on the gospel and aimed their hostility towards the Church. Such noxious behavior wasn't changed despite the force of law (Mosiah 27), but by the strength of an angel. "If thou wilt," he bellowed, "of thyself be destroyed. Seek no more to destroy the church of God" (Alma 36:9). This potent proclamation sent Alma to the jaws of hell where he discovered the path to repentance. Now we turn to Nephi to see why words from an angel's mouth are so efficacious. "Angels speak by the power of the Holy Ghost; wherefore, they speak the words of Christ" (2 Nephi 32:3). Governments seek to enact change by fiat; societies seek to influence via culture; Christ, angels, and the Holy Ghost penetrates the heart and rebuilds character from the inside out.
John gives us the earliest account of angels fighting. He describes for us the war in heaven when Michael lead the hosts of heaven against the dragon and the third part of the fallen angels (I imagine this is what prompted your question). The weapons we discussed earlier would be inadequate against such an army. How effective can a sword be against spirit? What plague can afflict Satan? How was he cast out? Listen well, and remember that you were among the righteous host that rushed to Michael's aid. "They overcame him," writes the Revelator, "by the blood of the Lamb, and by the word of their testimony" (Rev 12:11). The war continues on this earth today, and this weapon of angels has been passed to mortals empowering the modern Christian soldier to crush the Adversary's head.
-Gramps