Dear Gramps,
I am wondering if there's any declared doctrine that in the pre-earth life, we chose our specific trials that we would have in this life? If not official doctrine, what do you believe?
Dean, Salt Lake City, UT
Dear Dean,
If we chose our specific trials, then I must echo the words of the knight in Indiana Jones and the Last Crusade:
"He chose poorly."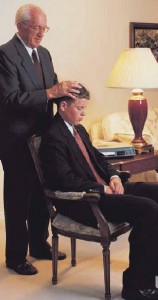 I know that the Lord knew us in the pre-existence. Our patriarchal blessings can help give us guidance that geared specifically for our lives.
But did we get to choose like casting a ballot for our weaknesses? I hope not.
And wouldn't more of us have chosen the weakness of being rich and prideful?