Question
Gramps,
Can you provide references and explain why Moroni is blowing a horn on top of many temples? Moroni was a warrior. He fought many battles. I don't recall a scripture proclaiming him blowing a horn. On the other hand, Gabriel will blow a horn to proclaim the beginning of the second coming. He is an angel of peace. It seems he should be blowing his horn on the temples.
Confused
Answer
Confused,
This is a great question and I'm so glad that you asked it.  This is one of those things that many have a misunderstanding about.  The statue of Moroni that sits on top of the majority of our temples isn't symbolizing the announcement of Christ's second coming at all.  That's what I thought for so many years until I learned differently.
Throughout the early history of the Church, Moroni played a significant part in the restoration of the gospel.  This gospel is to be preached to the entire world.  He is a herald of the restoration.  The trumpet at his mouth symbolizes the spreading of the gospel.  I, at times, like to think this:   We are taught that in the last days the gospel will be shared from the rooftops.  What better place to have a statue of Moroni "heralding" the gospel but from the rooftop of one of our temples?
The majority of our temples have Moroni facing east.  Moroni is spreading the gospel so that everyone will be prepared for the time that Christ will return.  Christ will appear in the east.
And he shall send his angels with a great sound of a trumpet, and they shall gather together his elect from the four winds, from one end of heaven to the other.  (Matthew 24:31)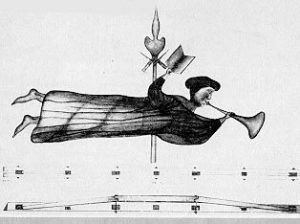 It's interesting to note that the original Nauvoo temple was the first temple to have an angel placed on top.  It also had a horn pressed to its lips and was holding a book.  It was horizontal in design as it was used as a weathervane
After the completion of the Salt Lake Temple the Church asked a non-LDS sculpture to create a design that most of the statues are patterned after today.  His name was Cyrus Dallin.  Dallin stated of his experience with this project:  "brought me nearer to God than anything I ever did. It seemed to me that I came to know what it means to commune with angels from heaven."
At one point the statue was designed holding the gold plates.  The temples with this design are Los Angeles California, Washington D.C., Seattle Washington, Jordan River Utah, and Mexico City Mexico.
A design for some of the smaller temples has Moroni holding a scroll.  The scroll represents the everlasting gospel spoken of by the Apostle John (Revelation 14:6).
I hope this answers your question.
Gramps