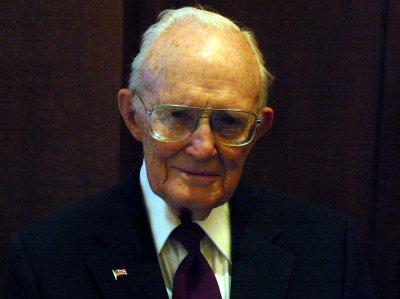 H. Clay Gorton, born March 7, 1923 to Rees Dubois Gorton and Sarah Dorleska Sterrett, passed away peacefully in his sleep on June 20, 2008 after his third battle with cancer.
His marriage to Edna Foot was solemnized in the Logan Temple on April 7, 1949. They had five children, David, D. Lynn, Stephen, Rebecca, and Elizabeth (deceased); 18 grandchildren and 17 great grandchildren.
Clay devoted his life in service to his Savior. He fulfilled six missions, including mission president in Argentina and president of the MTC in Santiago, Chile. He also served as stake president, bishop, welfare services region agent, counselor to 4 stake presidents, and as a member of 3 high councils. His final calling was a sealer in the Bountiful Utah Temple.
Clay obtained a MA degree in physics and mathematics at BYU. After graduation, he conducted research at Battelle Memorial Institute in Columbus, Ohio, and later joined the staff of TRW in Redondo Beach, California.
He obtained his pilot's license at age 69 and enjoyed aerobatic flying. He served as the editor for the SLC chapter of the EAA and as the editor of the Starduster Magazine. He authored seven books and has written papers on religion, philosophy, health and aviation.
His last years were spent serving as "Gramps"