Do we know for sure if Adam has been resurrected? If not, could it be possible that Adam is the Holy Ghost? Based on his roll in the war in heaven and the creation of the earth, it seems an interesting question to me.
Karen
Dear Karen,
Moses 6:51-52
51And he called upon our father Adam by his own voice, saying: I am God; I made the world, and men before they were in the flesh.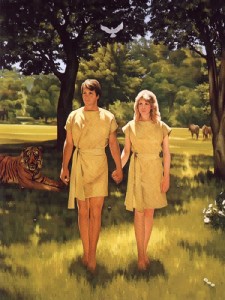 52 And he also said unto him [Adam]: If thou wilt turn unto me, and hearken unto my voice, and believe, and repent of all thy transgressions, and be baptized, even in water, in the name of mine Only Begotten Son, who is full of grace and truth, which is Jesus Christ, the only name which shall be given under heaven, whereby salvation shall come unto the children of men, ye shall receive the gift of the Holy Ghost, asking all things in his name, and whatsoever ye shall ask, it shall be given you.
If Adam was the Holy Ghost, how could it be conferred upon himself? No, Adam is not the Holy Ghost.
Definitely an interesting question!
Gramps