Are we held responsible only for sins that we have actually committed or also for sins that we would have committed if we had the practical chance to commit them? Real example: one day I felt down and it came to mind that I could accept an invitation to go to a party where I could have drank many alcoholic drinks. I had already decided to do so, I had exercised my free agency and chosen consciously I was going to do that even though I knew it was wrong. Then, as I tried to start the car to go there, the engine suddenly didn't work, so I had to give up on the party. Later that day I told my mom and she told me she was grateful this little accident happened so that I didn't have the chance to go and be involved in sin. Yet didn't Jesus say that when one man lusts after a woman he has already committed adultery in his heart? That would mean that even if I didn't go, I will be held accountable exactly as if I did go. Or is my reasoning wrong and my mom's right?
Daniel
______________
Daniel,
The purpose of Christ's teachings was to lift Israel above a mere letter-of-the-law mentality. According to the Law of Moses, for the most part whatever was in a man's heart was what it was. Only actions were judged against. However Christ did indeed teach that the intents of the heart were just as important as actions. The reasoning is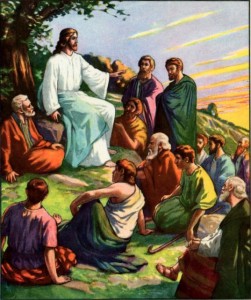 simple; think of it in stages.
Stage 1: Don't steal. Thinking about stealing is fine, just don't do it.
Stage 2: Don't steal. Don't even think about it.
The ulitmate desire is to remove sin from one's life. The easy part is to not do it. The tougher part is to not even want to do it. The good part is the greater challenge you face, the greater the rewards are for obedience. It's how life works both here and in the eternities. Utlimately the goal is to fully remove any desire to sin, however precious few have ever attained it in this life.
As for your example, you didn't go, and you didn't sin, so that was a victory. Now you can work on the goal of driving the attractiveness of the very temptation from your heart. This will take time, maybe the rest of your life, but it will make you all the stronger for it.
Gramps