Gramps,
I was wondering how did Joseph Smith see God without dying? I thought in the bible it says no man can see God without dying. So how did he see Him? Was it through the Holy Ghost? If he didnt have the Holy Ghost how did he see him?
tyler
Tyler,
Many prophets in the Bible and the Book of Mormon have seen Jesus Christ. The Brother of Jared saw the Lord's finger as he touched the stones to give light. Moses saw God face to face in Mount Sinai. And Peter, James and John were transfigured. We also can remember all the Nephites that saw the Lord at the Temple.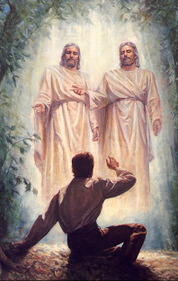 No man can see God in their natural state, and live. One would need to be transfigured in order to live to see God. Remember that Joseph Smith was literally exhausted from the experience.
In reading Moses chapter 1, we read about how Moses was caught up in the Spirit and saw the things the Lord chose to reveal to him. Not with his natural eyes, but his spiritual eyes.
When Satan came to tempt Moses, Moses asked "and where is thy glory, that I should worship thee?" Because Moses could look upon Satan with his natural eyes.
Hope this helps.
Gramps