Hi Gramps,
I built a food storage unit out of wood for the basement. We store cat food, bird seed for our parrot and corn cob bedding in the unit. Is there anything I could put in there to keep the moths out of there? Thanks.
Tom
___________
Tom,
Once a food stock is infested with moths there's nothing left to do to salvage it. Throw it away and start fresh. Empty your shelves and thoroughly wash them with soap and water. The idea here is to get rid of all the eggs. You may want to leave out some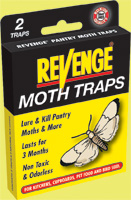 traps for a few months to kill the adults that survive the scrubbing. It can take 3-4 months for a moth to grow from an egg into an adult, so you'll want to stay especially vigilant during this time. Any new foods you add back to the shelf needs to be tightly sealed. The very hungry moth caterpillar will chew threw paper, cardboard, or even really thin plastic to get to a food source, so you may also need to get new containers for your food as well. I've heard an old wives tale that sticking a few bay leaves in the container serves as a deterrent, but I've never put it to the test.
-Gramps