Alma 3:9-10 says that if Nephites are "led away" by Lamanites their seed would have the "curse" of the Lamanites. But what if a Lamanite were converted by a Nephite, would the curse be lifted from their seed?
Shawn
_________________________________________
Dear Shawn,
Yes.
In the scriptures, a curse is the application of divine law that allows or brings judgments and their consequences upon a thing, person, or people primarily because of unrighteousness. Curses are a manifestation of God's divine love and justice. They may be invoked directly by God or pronounced by his authorized servants. Sometimes, the full reasons for curses are known only to God. In addition, a cursed state is experienced by those who willfully disobey God and thereby withdraw themselves from the Spirit of the Lord.
D&C 68:25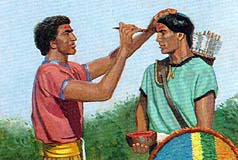 25 And again, inasmuch as parents have children in Zion, or in any of her stakes which are organized, that teach them not to understand the doctrine of repentance, faith in Christ the Son of the living God, and of baptism and the gift of the Holy Ghost by the laying on of the hands, when eight years old, the sin be upon the heads of the parents.
The curse as mentioned in the Book of Mormon would fall upon any one who has turned away from the ways of the Lord and leading their children astray.
Those who are coming into the fold are also under covenant to teach their children of the ways of the Lord. This is how the curse would be lifted from their seed.
-Gramps