Dear Gramps,
We are taught that at the Second Coming of Jesus Christ that everyone living a Telestial law or lower will be burned and go to the Spirit Prison. At the same time, the righteous saints in Paradise will be resurrected. My question for you is: With such a HUGE influx of people being sent to the Spirit Prison at that time, WHO will be left there to preach repentance to them if all the righteous people are resurrected?
Robert
____________
Robert, I have great news for you. Your question has already been answered! There has already passed a brief period where missionary forces were quickly organized, discharged, and then resurrected, leaving a skeleton crew behind to preach to a crowded spirit prison. What an exciting weekend the first Resurrection was! I imagine the same (or similar) solution will be implemented at the Second Coming.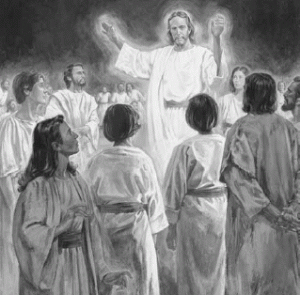 As far as we know, there was no commission to preach the gospel in the spirit world until Christ's visit to the dead (see D&C 138 describing this event). So just before Christ died, thousands of years' worth of spirits had yet to hear of vicarious ordinances. 3 days after his death, the righteous follow Him in the resurrection. Who remained behind to preach to others?
D&C 88:95-102 lists the order of the resurrections as glory-based. Celestial and terrestrial heirs will rise when Christ comes while all others must wait until after the Millennium. There is, however, another order to consider. Alma taught his son Corianton that "whether the souls and the bodies of those of whom has been spoken shall all be reunited at once, the wicked as well as the righteous, I do not say; let it suffice, that I say that they all come forth; or in other words, their resurrection cometh to pass before the resurrection of those who die after the resurrection of Christ" (Alma 40:19) So there is an order to the resurrection based also on when you died. This suggests that perhaps not all the righteous will be resurrected at Christ's Second Coming, leaving some available in the spirit world to preach the gospel.
One more consideration is that some missionaries have been permitted to stay in the body, skipping the spirit world altogether in order to preach the gospel here (3 Nephi 28:9, D&C 7:2). It is possible that some will also be permitted to tarry in the spirit because of their great desire to preach the gospel.
-Gramps