Question
Gramps,
What year was the first quad printed?
Carri
Answer
Carri,
What a wonderfully delightful bit of trivium you've stumbled upon.  It was fun to research this.  There was in fact an older quad printed once upon a time.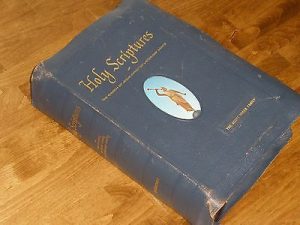 That was 1959.  That's the earliest I could find.  Now, let's look at the Church timeline. (click on image for a better look)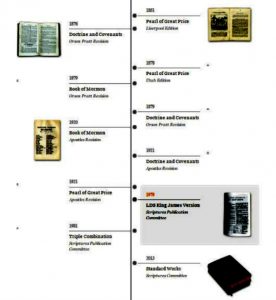 (for the complete timeline see here: History of LDS Scriptures
Any other version could not have been earlier than 1878 when the first PoGP was published.  And it was probably not until after 1921 (the "Apostles Revision" edition).  So, that makes the 1959 version a pretty credible candidate.  But because the Bible used was a generic King James Version and not an "LDS version", it was not really the same as the quad we've come to know.
The first LDS edition of the Bible was in 1979.  This included the footnotes and other study aids that we are now familiar with.  The first quad published by the Church itself was in 1981.  Although the timeline above only identifies the date of the Triple, it is also the same year that this edition of the quad was also published.  I'm old enough to remember that when they came out, they came out together.  Many people already had the 1979 version of the Bible.  They only lacked the Triple.  The Quad was made available for those wanting to replace the whole set.  And, of course, we now have available the most recent 2013 edition of the Church's standard works.
Aren't the scriptures grand?
Gramps