It says in the book of Ether that the brother of Jared was the first man that Christ showed himself to because of his great faith. Didn't Christ walk and talk with Enoch and the people of the city of Zion long before the brother of Jared was alive, so how could he be the first?
John
______________
Ether was not the first. Let's review the verse:
Ether 3:9
And the Lord said unto him: Because of thy faith thou hast seen that I shall take upon me flesh and blood; and never has man come before me with such exceeding faith as thou hast; for were it not so ye could not have seen my finger. Sawest thou more than this?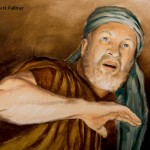 The Lord was talking about the faith of the Brother of Jared, to ask that the Lord use his finger to touch the stones for light in the barges. If his faith wasn't great, he could not have seen the Lord's finger.
Be careful to not read too far into scriptures where you think you are reading things that aren't there to be read.
-Gramps