Question
Gramps,
Some members commonly used abbreviations, such as D&C, BOM, YM, YW, YSA, LDS, but there are members who say it is not allowed. Rather than saying D and C, say it Doctrine and Covenants. Is there any Prophet talks regarding this?
John
Answer
Hi John,
Thank you for your question.
One of the beautiful things about the Church is that it is organized. The Church is organized and structured in such a way that most things that are actually deemed, "not allowed" are clearly spelled out for the general membership to both understand and comply with. If members are telling you that the use of abbreviations are, "not allowed", you may kindly ask them to provide you with the written Church policy that supports such statement. Most things that are "not allowed" can be found in such publications as Handbook 2, the Standard Works (Bible, Book of Mormon, Doctrine and Covenants, Pearl of Great Price) or shared with the world in General Conference like the official name of the Church vs. Mormon Church. If someone is telling you that "X" or "Y" is not allowed at Church, the burden of proof is upon them to provide you with the written source of such rule or policy. If a written official Church source can not be provided, there is a good chance that their concern likely originates from opinion, be it their own or an opinion that has been handed down to them. Opinions are not the same as actual policies or rules. Preferences are not the same as policies or rules. Again, the burden of proof is on them, not you.
Abbreviations are used throughout the Church and Church Publications. Interestingly enough, our own Standard Works currently uses abbreviations. Below you will see how the Church uses D&C in place of Doctrine and Covenants.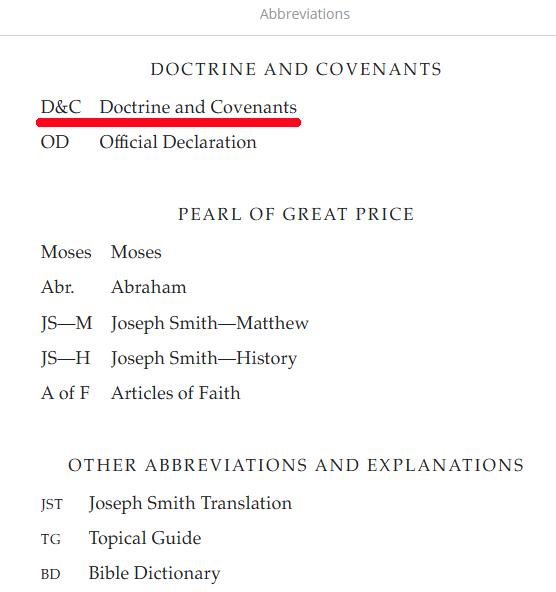 At the Church's official online store you are able to buy a CTR ring vs. a ring that says Choose the Right.
The Church frequently uses abbreviations in their communications with members. Here is an example from the Church's website regarding the Church Educational System.
BYU–Pathway Worldwide

BYU–Pathway Worldwide (BYU–PW) has been created to address the growing demand for Church Educational System (CES) online higher education programs throughout the Church. This will allow CES to more effectively serve online students, help them acquire marketable skills and find employment, and infuse them with faith, hope, and confidence in Jesus Christ.
Continue to go to church John. Continue to have a testimony of Jesus Christ our Savior. Continue to know that the Church is true and whether as members we say:
D&C vs. Doctrine and Covenants
BYU vs. Brigham Young University
CES vs. Church Educational System
or
"tow-may-tow vs. tow-mah-tow"
you are loved either way.
Warm Regards,
Gramps