Hi,
After Lord's resurrection, notice Matthew 27:52-53 mentioned about resurrected saints out of their graves and walked into Jerusalem meeting the mortals. I wonder if there were any case of missing body in ancient Egyptian mummy? If not, then weren't they all worth enough to be resurrected after Lord's resurrection? Was it because they had not baptized?
Many Thanks,
Gaius
_____________________
Gaius,
The answer is in the very verse you referenced, "And the graves were opened; and many bodies of the saints which slept arose, and came out of the graves after his resurrection, and went into the holy city, and appeared unto many."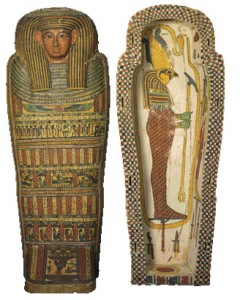 The qualification to get resurrected with Christ had nothing to do with geography or bodily preservation; it had everything to do with righteousness. The saints arose with Christ, and they are defined in the Bible Dictionary as "all those who by baptism have entered into the Christian covenant".
If there was indeed an Egyptian saint resurrected with Christ, then his wrappings would probably be neatly folded like Jesus'.