Is it true there are 7 types of anointings?
Cindy
____________
Cindy, anointing with oil is an ancient practice that separates the anointed as holy and set apart for a special purpose. In the scriptures you'll find that Aaron was anointed to be high priest, David was anointed king, and even the altar was anointed to be holy temple furniture. Today we continue the practice of anointing in temple ordinances as well as anointing the sick to be blessed.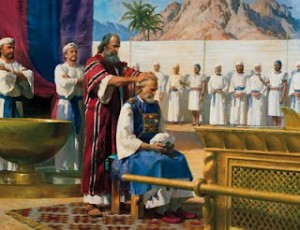 The word "Christ" is the Greek form of the word "Messiah" – both of which mean "anointed". It was prophesied that Jesus would be anointed "with the oil of gladness" (Psalms 45:7). Peter further testified that Jesus is the Christ, anointed "with the Holy Ghost and with power" (Acts 10:38). Other scriptures speak of the specific mission to which Jesus was anointed.
Sometimes a scripture metaphorically refers to being anointed of the Spirit, meaning a special outpouring of spiritual blessings. I have heard people of other faiths use the term anointing in this specific way, but it is uncommon in LDS circles. I imagine that you heard of 7 anointings from someone who uses the term in this way, but I have not heard of a prosperity anointing in the restored gospel.
-Gramps