God wants us to reunite as a family and be together for eternity. Say I got in the terrestrial kingdom, do you think I could work for God and work my way up to the celestial kingdom?
Tyler
Dear Tyler,
John 14:2
2 In my Father's house are many mansions: if it were not so, I would have told you. I go to prepare a place for you.
If your desires are right, and you continue along the path of eternal progression (including all saving ordinances), there should be no reason why you would be in the Terrestrial kingdom.
Let's remember the descriptions of each kingdom:
Doctrine & Covenants 76:51-70
Celestial:
Received the testimony of Jesus, baptized, received the Holy Spirit by laying on of hands
Overcome by faith, sealed by the Holy Spirit of promise
Church of the Firstborn
Dwell in the presence of God
Have part in the 1st resurrection
Just men made perfect through Jesus the mediator of the new covenant
Doctrine & Covenants 76:71-79
Terrestrial
Died without law
Honorable men of the earth, who were blinded by the craftiness of men
Receive the presence of the Son, but not of the fullness of the Father.
These are they who are not valiant in the testimony of Jesus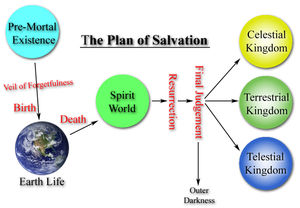 That doesn't sound like you. These degrees of glory are based on the soul of men and where they would feel most comfortable. If your desire is to enter into the Celestial Kingdom, you will reach it as long as you are true and faithful to your covenants, and call upon the Lord for forgiveness.
Let's put it in another way: let's suppose you just finished a long day of yard work. You're in jeans and t-shirt and could probably use a shower. You decide to go to a fancy dinner where all attending are in flowing gowns and tuxedos. Would you be comfortable there? I wouldn't. I'd probably be just fine going to eat at a fast-food place. I'd be more comfortable. It is the same with the kingdoms of our Father. He will prepare a place for us.