Why do members of the church wear white shirts only? Is this according to a dress code or can we choose other colors too?
Dylan
______________________________________________
Dylan,
Many of us who were raised in the church were counseled and raised to model the general authorities of the church in dress and demeanor. Many also believed this to include the lack of facial hair as well.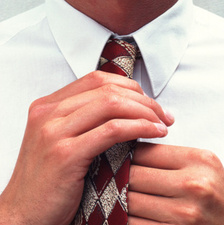 I also don't believe that you will find any member of the Bishopric, Stake Presidency or other priesthood leadership on Sabbath services wearing anything other than a white shirt.
I remember hearing more than one talk by general authorities who would give blessings only in a white shirt – to show proper reverence for the priesthood and the blessing to be pronounced and given. We also wear white in the temple.
It is important to note that the priesthood always resides with one who has had it conferred upon them and is living their life worthily. You don't give up your priesthood when you change your shirt. You can perform blessings without wearing a white shirt. You can perform any ordinance (outside the temple and baptism) without wearing white.
Also, on this note, be careful about telling others that they cannot serve and honor their priesthood if they're not wearing a white shirt. Wearing a white shirt is tradition, not necessarily gospel law. You can offend someone by being more worried about their shirt than their willingness to serve the Lord.
-Gramps