Dear Gramps:
I´m delighted reading and learning both from the questions and from your answers about every theme is published in the page. I love to search through all the new and all the old. Thanks! Recently I watched the videos about the life of Jesus Christ on Bible Videos – The Life of Jesus Christ – Watch Scenes from the Bible and meditate about Gabriel as it was presented there. Although I understand it just may be a cinematographic interpretation, the archangel appears there as a person with a body made of flesh. I also understand that archangel Gabriel is the prophet Noah, so at the time of his presence in front of Mary, the mother of the Lord, Noah was already dead a long ago. How can we understand his coming, as represented on the clips, to fulfill the mission to advice about the coming of Jesus Christ to a mortal, not being himself the owner of a resurrected body? Thanks again,
Luis Eduardo
______________
Luis,
The reason why it looks like the angel Gabriel has a body of flesh and blood is because he is being played by mortal with flesh and blood! I don't know if the Church had a casting call for spirits to play the angel, but I imagine a literal portrayal by an angel would just leave the role uncast. So the choice is to either cast a live mortal, cut out the part completely, or just create some other symbolic angel (like a bright light or something).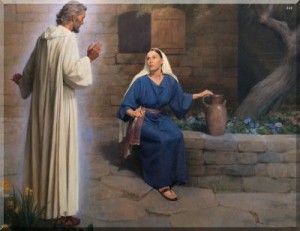 Rather than just leave it at that, I'll tell you a few things about angels. God's heavenly messengers come in two kinds: resurrected and disembodied (D&C 129). The disembodied angel (spirit of just man made perfect) will come in glory, so Gabriel would have had angelic glory surrounding him. This glory is important, as it can be very difficult to discern between a pre-mortal spirit and a body of flesh and bone. The brother of Jared was confused that Jesus appeared to have a tangible body. Of course, Jesus didn't have a body yet, but His spirit body looked like the body He would take in mortality (Ether 3:6-16). So it looks like artistic license aside, you can get away with casting a mortal to play an angel.
-Gramps