Dear Gramps,
In D&C Section 76, it details a vision given to Joseph Smith and Sidney Rigdon of the three degrees of glory. Verse 72 describes one possible condition that will lead to inheritance of the Terrestrial kingdom, i.e., those who die without law. Yet footnote "a" for this verse refers us to D&C 137:7, which states that those who die without a knowledge of the gospel, who would have received it with all their hearts, shall be heirs of the Celestial kingdom. So my question for you is this; will those who die without the law inherit the Terrestrial or Celestial kingdoms? It seems like these two verses are in conflict.
Robert
_______________________
Robert,
No the verses are not in conflict. The verses are incomplete without additional light and knowledge from the Doctrine & Covenants.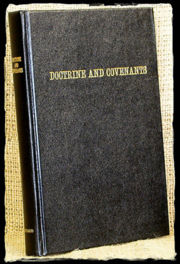 What we know is that certain ordinances need to be performed by proxy for those who have passed away before us. You cannot enter the Celestial Kingdom without the ordinances performed and accepted by the deceased person.
So, even if a person died without the law, they cannot enter into the Celestial Kingdom until those ordinances have been performed and accepted.
You will also notice that in D&C 137:7, it says "shall be heirs of the Celestial Kingdom". "Shall be" indicates that it is a future event that hasn't yet taken place.
-Gramps