Every temple has the inscription "Holiness to the Lord, the House of the Lord". When we read that, is "Lord" referring to the Father or the Son. Jesus called the temple "My father's house", but other references seem to suggest that it is the Savior's house (D&C 110:6-7). What is your understanding?
Paul
______________________
Paul,
My understanding is that the Lord Jesus Christ is the one by which the new covenant is established and the name under heaven by which we can be saved.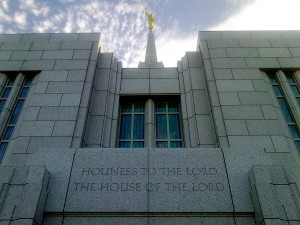 When Jesus called the temple "my Father's house", it was before the Atonement and before His resurrection. In my opinion, this made all the temples in the name of the Father, not the Son.
Temples are dedicated for the Lord's work, but the dedicatory prayers, like all prayers, are addressed to the Father, in the name of Christ.
However, this is just my own opinion and interpretation of these verses as we are really talking about semantics. God the Father is free to visit these houses of worship, just as Jesus Christ is able to.
It may not really matter, but I hope this give you additional perspective.
-Gramps