Who was King Mosiah's (the 1st) father?
Floyd
_____________
Floyd,
The short answer is that the Book of Mormon does not say.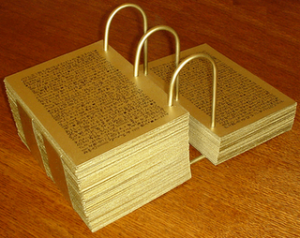 If you remember from your reading the Large Plates were given to the person who would succeed Nephi (son of Lehi) as king (Jacob 1: 1-3). The Large Plates were then passed from king to king until they were given to king Benjamin, who is the first author of the abridgement we have of the Large Plates in the Book of Mormon we have today. Mosiah is mentioned as king Benjamin's father, and it is also the name of his son, who is the person the book of Mosiah is named after (king Benjamin's son).
There is a short history of how Mosiah (king Benjamin's father) left the land of Nephi and found the land or city of Zarahemla. Mosiah was made king in that land.
Omni 1: 12 Behold, I am Amaleki, the son of Abinadom. Behold, I will speak unto you somewhat concerning Mosiah, who was made king over the land of Zarahemla…
But, since it was written on the Small Plates, the history or geneology of the kings was not the primary concern. The Small plates gives a complete chain of the prophets from Nephi to Amaleki, who gave the Small Plates to king Benjamin. King Benjamin already had the Large Plates, so the two records were reunited again for the first time since Nephi.
There is much speculation about what happened to the Large Plate abridgement Mormon made of Nephi to king Benjamin. We do not have it today. Most feel it was part of the lost 116 pages of manuscript, while others feel Mormon removed that portion of his abridgmenet and inserted the Small Plates in their place (Words of Mormon 1-7).
Gramps