In Lehi's dream in 1 Nephi 8:14 who is Lehi talking to?  Joseph and Jacob are not yet born. Sariah, Nephi, and Sam are seen in the dream. Later in vs 17 Laman and Lemual are seen. So who (which child) is Lehi talking to? Note: 14. And I looked to behold from whence it came; and I saw the head thereof a little way off; and at the head thereof I beheld your mother Sariah, and Sam, and Nephi; and they stood as if they knew not whither they should go.
Ed
_________
Ed,
At the beginning of the chapter, Nephi introduces the setting in which Lehi shares his vision. Specifically, verse two reads: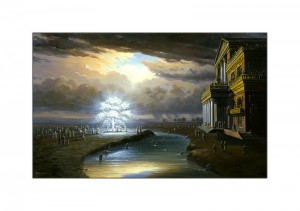 "And it came to pass that while my father tarried in the wilderness he spake unto us, saying: Behold, I have dreamed a dream; or, in other words, I have seen a vision."
Even more specifically, the majority of his words are directed toward Laman and Lemuel, as he spoke unto them concerning his fear that they would fall away (see verse 4). We are given no more details and can assume that the "us" Nephi was referring to could have included all his siblings, or maybe even their entire extended family. We do know that at the very least Laman, Lemuel, Nephi, and Sam had been gathered together to hear Lehi's dream, as later these four are each pondering their father's words.
Nephi seeks understanding through prayer and is granted his own vision through an angelic visitation. He then recounts his vision and his learned understanding of Lehi's words to his brothers Laman, Lemuel, and Sam in chapter 15.
Gramps