Question
Gramps,
What is with this?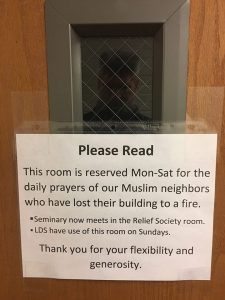 Tracie
Answer
Greetings Tracie,
It looks like this is a photo of Latter-day Saints following the example of Christ and taking care of others!
As you may know, freedom of religion is a concept that holds a special place for Latter-day Saints.  Our Eleventh Article of Faith states that
"We claim the privilege of worshiping Almighty God according to the dictates of our own conscience, and allow all men the same privilege, let them worship how, where, or what they may."
It was not that long ago that we, as a Church, were driven out of our homes and had to flee to the Rocky Mountains (which was then desolate wilderness) because people did not like our religious beliefs.  We should never forget this part of our history, and should work to ensure that no one else ever has to experience what we, as a people, did.  As Elder Robert D. Hales of the Quorum of the Twelve stated in the April 2015 General Conference, "Preserving Agency, Protecting Religious Freedom"
"No one should be criticized, persecuted, or attacked by individuals, or governments either, for what he or she believes about God.  It is very personal and very important."
Assisting others in worshiping God according to their own conscience is one of the most Christ-like things we can do.
Regarding Islam in specific, Church leaders have long encouraged friendship and interfaith dialog between Latter-day Saints and Muslims.  Several years ago, the Ensign published an excellent overview on the relationship between Latter-day Saints and Muslims entitled "A Latter-day Saint Perspective on Muhammad".  The article discusses how Elder George A. Smith of the Quorum of the Twelve Apostles, back in the 19th century, observed that "Muhammad was 'descended from Abraham and was no doubt raised up by God on purpose' to preach against idolatry."  See id.  More recently, Elder Neal A. Maxwell, addressing Muslim dignitaries, stated that
"God is the source of light in heaven and on Earth.  We share that belief with you.  We resist the secular world.  We believe with you that life has meaning and purpose . . . We revere the institution of the family. . . We salute you for your concern for the institution of the family . . . Mutual respect, friendship, and love are precious things in today's world.  We feel those emotions for our Islamic brothers and sisters.  Love never needs a visa.  It crosses over all borders and links, generations and cultures."   See id.
These statements from Church leaders are backed up by actions, as the Church has established dialog with Muslim dignitaries and has actively collaborated with Muslims in charities and academia.  See id.  The goodwill goes both ways; as an Egyptian cabinet minister once remarked to Elder Howard W. Hunter of the Quorum of the Twelve,
"if a bridge is ever built between Christianity and Islam it must be built by the Mormon Church."  See id.
For those that are worried about "radical Islam" consider this..  All groups have radical or fringe elements.  The best counter to such is the more main stream part of the group cutting them off.
Now imagine two young Islamic followers. Both have something horrible happen to their place of worship.  One of the young followers and (their congregation) is left to struggle all by themselves alone and cut off.  The other is welcomed and supported by different faiths and treated with kindness and respect as they get back on their feet.
Now let's advance several years.. both have recovered and both are now being exposed to more radical ideas that other faiths need to be destroyed.  Of the two, which one do you think is going to be more vulnerable to the idea?  Which one do you think is going to reject it?
Sometimes our best and most effective weapon is kindness.
So, it should come as no surprise that the Church is offering space for local Muslims to pray after losing their building.  We are just following the counsel of our Church leaders and the example of Christ in extending charity to our Islamic brothers and sisters.
Gramps