Hey Gramps,
Just wondering, hypothetically, if US laws were changed to allow polygamy would the practice be allowed in the church again?
Just wondering
_______________
Dear Wondering,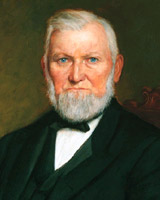 For the Church to begin practicing polygamy again, it would have be begun again in the same way as it was started initially, by direct revelation from God. Currently the Manifesto given by Wilford Woodruff is the most current revelation dealing with the subject of Polygamy, and it is a no.
So even if the law were to change it would not be an automatic thing for the church to resume. I would imagine that such a new law being made would cause a lot of discussion amongst the members, with many having very strong opinions both for and against resuming. In the end it would take our Prophet speaking on behalf of the Lord to show us the way forward.
Gramps