Dear Gramps,
We had a lesson about baptism in our Theology class. And I ask my professor what are his thoughts about "Baptism for the Dead" or as he calls it "Proxy Baptism".. He says its not valid because the spirit of the one being baptized is not anymore inside the body.  So my question is that is it necessary that the spirit should be inside the body to have a valid baptism?
-Jamaron
__________________
Jamaron,
Let me see if I can separate a few points in your professor's statement, and then we can examine them.
1. The spirit and the body are united in mortality
2. Death separates the spirit from the body
3. The spirit and the body must be together for the ordninance of baptism to be valid. If the spirit leaves the body, that person cannot be baptized.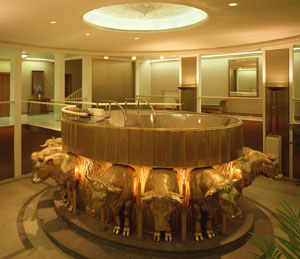 I think in this respect your professor is accurate in that we cannot baptize dead people. The good news is we don't baptize dead people. What we do is a proxy baptism, where someone still living goes through the ordinance for, and in behalf of someone who is dead. They cannot do it themselves because of the condition your professor brings up. However someone yet living can, under the proper authority of God, perform the ordinance for them. In this way, the ordinance can be performed with a living subject, and the ordinance can then be either accepted or rejected by the dead in the spirit world.
I think the real point your professor is making is that once someone dies, there is no way to perform an ordinance that would apply to them because they are dead. In this respect, the issue is one of accepted doctrinal beliefs. It's not surprising either, since I can't think of another Christian religion that preaches the reality of proxy baptisms, let alone the other ordinances needed to return to the presence of Heavenly Father.
So, in one view your professor is correct, the spirit does need to be in the body for a baptism to be effectual. However in another view, God has provided an ordinance that allows us to extend baptism to those who have passed on by having a living, righteous person stand in their place.
-Gramps