Why is the Sacrament not taken during General Conference? No one can answer my question. Can you please help me gramps? Thank you.
Brother Bull
Dear Brother Bull,
I'll try and answer this the best I can.
Let's take a look at the names of these different meetings.
First of all you have Sacrament Meeting. What is the main focus of Sacrament meeting? To partake of the sacrament. This is a time when we renew the covenants we made at baptism.
Now let's look at General Conference. Let's look at the definition of conference. Conference means to confer with. A different meaning of confer is to give. This is a time when our General Authorities confer or give testimony to the truth of the gospel and of Jesus Christ. They provide or give counsel to a variety of subjects by inspiration as to what they feel is pertinent to the lives of todays Saints.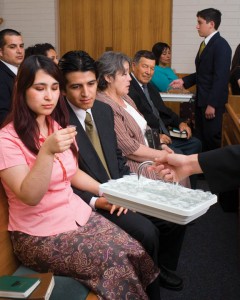 Let's also think of the logistics of this. The conference center where General Conference is held has seats for 21,000 people. Plus it is broadcast to countries all around the world. Can you imagine the logistics of trying to pass the Sacrament to 21,000 people? Let alone coordinating that with hundreds of meeting houses or Stake Centers where people are gathered from around the world to watch conference by satellite.
Both of these meetings serve different purposes.
Hopefully this helps to answer your question.
Gramps