If Satan lived in the pre-mortal world and knew of the plan of Salvation. Why does he play along? By tempting man and opposing God, he only reinforces free will and becomes the necessary evil. Certainly Satan knows he is a part of the plan, right?
Steven
________________
Steven,
Knowing and understanding are two very different things. Satan knew the Lord's plan, but he did not understand it. Remember that Satan is selfish. When he presented his plan before the Father, he wanted to be given the glory. He believed it was possible for everyone to return to the Father through his plan which would remove our agency. He thought his plan was better than the Father's, and he wanted to receive the praise and credit for seeing everyone through mortality.
Satan is intelligent and cunning, but he lacks wisdom. We read in Moses 4:6 that "he knew not the mind of God, wherefore he sought to destroy the world". How can anyone who is selfishly minded understand the mind of someone who gives selflessly? They cannot. It does not matter how intelligent you are, if you are focused on getting gain for yourself you will extend that attitude onto others and search their actions for selfish motives. Some of the brightest, most intelligent people of the world fail to grasp the simple brilliance of our Father's plan for us, because they fail to recognize the power of giving instead of taking. They believe that serving without thought of reward is foolish and cannot understand the motives that lead people to sacrifice for others.
Satan truly believes that his actions will thwart the plan of God, because he believes it is possible for him to become the Lord's better through selfishly grasping for power. He believes the Father to be foolish, and thinks if only he can draw enough of us away he will be able to overthrow God. He led a third of the hosts of heaven away before we even came to earth, and even now- through his cunning- he seeks to lead even the elect away and chain them into servitude with the bonds of addiction and sin. Each soul he leads away he sees as a victory, and when those within his grasp turn to the Lord in repentance he clings onto them desperately, unwilling to accept that the Savior's mercy is stronger than him.
While Satan knew that facing temptation is part of the Lord's plan, he also knew that this plan left us open and vulnerable. We all knew that because of our agency, some of us would not make it back to our Heavenly Father's presence. Yet we trusted in the strength of our God and in the power of the atonement. We accepted the Plan of Salvation, because we believed that there could be no better way. But Satan did not believe. Satan saw our agency and the temptations we would face as a weakness in the plan and wanted to do away with it. When God did not recognize him and his plan, Satan became rebellious.
Satan truly believes that his way is better. He is angry and bitter with our Father, and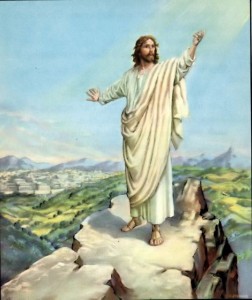 he seeks to lead us away through coercion, to convince us with subtle lies and promises that there is no hope for us, that the atonement cannot help us. He thought that he could lead even the Savior away:
"And the devil, taking him up into an high mountain, shewed unto him all the kingdoms of the world in a moment of time.
And the devil said unto him, All this power will I give thee, and the glory of them: for that is delivered unto me; and to whomsoever I will I give it.
If thou therefore wilt worship me, all shall be thine.
And Jesus answered and said unto him, Get thee behind me, Satan: for it is written, Thou shalt worship the Lord thy God, and him only shalt thou serve." (Luke 4:5-8)
While God intended us to face temptations, each soul led away is a loss to Him. We are capable of seeing through Satan's lies, of resisting his temptations, and of turning to the Lord so that His grace may cover our failings. His mercy is sufficient for all of us, but there is still the requirement that we must reach out to him. We must humble ourselves enough to ask for his help, and so Satan strives to convince us that we can get by on our own. That we don't need the Savior or that we are too far gone for the atonement to cover our sins. Everyone that he convinces of these lies, everyone that he holds back, is a lost soul over whom our Father weeps.
As we study our scriptures and learn more about the Father and the Savior, we can gain wisdom and come to understand His plan in a way that Satan never will. We can draw near unto God as we serve others selflessly, and we will feel of His spirit and feel the joy that is our reward for following in His footsteps. Satan will never fully understand His Plan and will never experience that joy, because he is selfish and seeks only his own gain. He seeks to bind us with captivity and death "that all men might be miserable like unto himself". (2 Nephi 2:27) Thankfully, the atonement is sufficient for all men who humble themselves before the Lord and ask for His help in overcoming their weaknesses and resisting Satan's temptations.
Gramps