Who will be selected to attend the "secret meeting" with the savior at His Coming?
Eleven
_________________
Dear Eleven,
If there is a 'secret' meeting to take place… well it wouldn't be much of a secret if you know about it and I know about it now would it?
However I think you are talking about the meeting that is suppose to happen at Adam-ondi-Ahman.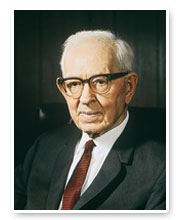 For this meeting President Joseph Fielding Smith Jr., in The Way to Perfection, p.290-291, described that councel in the following terms:
"This council in the valley of Adam-ondi-Ahman is to be of the greatest importance to this world. At that time there will be a transfer of authority from the usurper and impostor, Lucifer, to the rightful King, Jesus Christ. Judgment will be set and all who have held keys will make their reports and deliver their stewardships, as they shall be required. Adam will direct this judgment, and then he will make his report, as the one holding the keys for this earth, to his Superior Officer, Jesus Christ. Our Lord will then assume the reins of government; directions will be given to the Priesthood; and He, whose right it is to rule, will be installed officially by the voice of the Priesthood there assembled. This grand council of Priesthood will be composed, not only of those who are faithful who now dwell on this earth, but also of the prophets and apostles of old, who have had directing authority. Others may also be there, but if so they will be there by appointment, for this is to be an official council called to attend to the most momentous matters concerning the destiny of this earth."
We understand that this meeting will go unnoticed by the world which might be where you get the idea that it is secret. Even members of the Church who are not invited to attend may not be aware of it.
Gramps