What are all the signs of the times that will take place before the second comming, and what is the minimun amount of time that it would take to complete the ones that are not fulfilled yet.
John
____________
John,
The signs of the times are given in several places in scripture. Some are in Daniel, some are found in the words of the Savior himself in the gospels. Add to that the book of Revelation, multiple places in the Book of Mormon, and the Doctrine & Covenants.
I'm sure if you look around the online catalog of Deseret Book, you can find someone who's written their own book about all the signs that have been given. At least I'd be surprised if nobody has attempted it yet.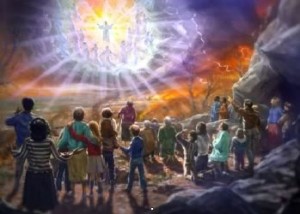 As for the minimum time to complete them, there's no way to say for sure. The reason why is there are some that depend upon the actions of our fellow man. Others, however, are dependant upon God and his timetable. We could speculate about how fast we could do our part to fulfill the signs, but ultimately we are on Heavenly Father's schedule, and he's the only one that really knows anything about it for sure.
This question opens another issue though; what are the signs of the times for? Why were they given to us? In my heart, I think they were given to us for several reasons.
1. So we know when the second coming is approaching. Not so we know when it happens.
2. So we know that God is still working for our salvation. Each sign reminds us that he's involved.
3. So we can be reminded of the importance of being prepared for it, whether it occurs in our lives or not.
I think this last one is the most important. We know Jesus will return. When that happens many wonderful things will be going on. There will also be many horrible things going on. What we must do is decide which events we want to be a part of. As long as we are prepared spiritually, and prepared physically, we will have no need for fear.
-Gramps