I have been a member my whole life, and became active in 2007 due witnessing a pure and wondrous miracle. I became sealed within the Temple in 2009 and have enjoyed my time within the church and being active. As time went on, I have feel unworthy, habits I thought I had defeated have returned, and my general feeling of worthiness has declined. I am going to speak with my Bishop about this at my next recommend update interview, but I am fearful. I know I will lose my recommend. Will my Temple Marriage become void? Will my children become unsealed to me? This would break my heart exceedingly. If I do lose my recommend, and am able to become worthy once again, will I be forever barred from the highest kingdom of celestial glory?  I know God is real, I can't imagine he would let this slide and allow me back to full glory if I fail now.
Anonymous
_______________
Anonymous,
I'm so very glad you decided to ask this very personal question. Many years ago someone once said "When it comes to perspective, we are our own worst critics. We are either too lenient on ourselves or too harsh." In other words we're often just too close to the trees to see the forest.
While the specifics of your transgressions aren't needed here, what I do want to discuss is your anxiety. On one hand, it is good that you recognize the wrongs you have done. In that sense the guilt you feel is an essential part of where you are in the repentance process. Feeling sorrow for mistakes and sin is part of everyone's life on this earth. On the other hand, Heavenly Father never intended such sorrowing to last forever by any means. We all have regrets for one thing or another, but the sorrow and guilt is only meant to prompt us to repentance. You are not alone in this at all.
The Bishop will decide what steps are necessary to help you complete the repentance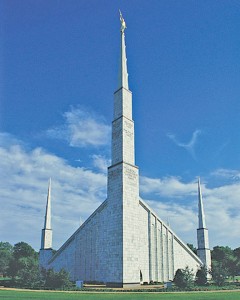 process, and this is what I'd like you to keep in mind as the time for the meeting approaches. You aren't confessing to the Bishop. You must do that with Heavenly Father through prayer. Meeting with the Bishop will give him the tools and information he needs to assist you on the path back to membership in good standing.
All to often we look at the repentance process as part of the punishment for our sins. It is not so. The punishment most often has already been meted out in loss of blessings, loss of sensetivity to the spirit, and the guilt we discussed earlier. What going to the Bishop accomplishes is to bring an end to all of those conditions as quickly as possible.
Of course you may lose some opportunities such as a temple recommend, but none of them will be permanent. Even in the extreme case of excommunication, it is often done as a way to start over from the beginning, all the while encouraging the offender to continue on the path to Christ.
Speaking from personal experience when I had to have my own meeting with my Bishop, I felt the same anxiety that you feel. However during the meeting and ever afterward the Spirit was overwhelmingly supportive and uplifting to my soul. I had done the right thing in trying to get the wrongs in my life made right. When you do meet with your Bishop, the weight and guilt of your sins will be lifted greatly. It will take time to obtain forgiveness and full membership privileges, but it won't take forever, and Heavenly Father will help you every step of the way.
Never hold fear in your heart for Heavenly Father. He wants you back with him more than anybody else, no matter what it is you have done. Never lose faith.
Gramps