Dear Gramps,
Could you please share anything you know about the Sign of the Dove. In my religion class a quote from the Prophet Joseph Smith "The sign of the dove was instituted before the creation of the world, a witness for the Holy Ghost, and the devil cannot come in the sign of a dove. The Holy Ghost is a personage [a man], and is in the form of a personage [a man]. It does not confine itself to the form of the dove, but in sign [symbol or representation] of the dove. The Holy Ghost cannot be transformed into a dove; but the sign of a dove was given to John to signify the truth of the deed, as the dove is an emblem or token of truth and innocence" This doesn't make much sense to me, it appears that it wasn't a dove but it looked like a dove?
Any clarification would be great.
Thanks,
MPPacker
___________________________________________________
Dear MPPacker,
Lets break this down. Doctrine and Covenant 130:22 teaches us that the Holy Ghost 'is a personage of Spirit.' Your religion class correctly noted that the Holy Ghost does not change shape. The Holy Ghost can not be seen or touch or interacted with in any purely physical manner. Knowing this and knowing that there would be times when the Holy Ghost would need to be seen in a physical way, God instituted the Sign Of the Dove.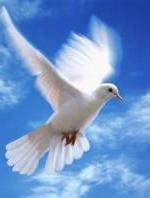 Therefore at the times of great events, like the baptism of Jesus, the Holy Ghost was there and the Sign of the Dove was made manifest so that witnesses like John the Baptist would know. John the Baptist heard the Father proclaim that Jesus was his son, and he not only felt the presence of the Holy Ghost but saw the Sign of the Dove which he knew meant the Holy Ghost was there.
So what is the Sign of the Dove? It is a symbol, a manifestation, or an effect of the Presence of the Holy Ghost. It is not the Holy Ghost itself. No more then a ray of sunlight is the sun. One can cause the other to appear. Unlike the sun and its rays, the Holy Ghost can be present without the Sign of the Dove appearing. That is reserved for when God feels it is necessary.
I hope this help clarify the subject for you.
Gramps