As I understand it contraception is acceptable in marriage and decisions about having children and how many children are between the couple and the Lord. I have several children, however due to medical reasons, a further pregnancy could be fatal to me. I know the health of a mother is of prime consideration when making decisions of this kind. We considered my husband having a vasectomy, or myself being sterilized and despite it being an obvious option, I felt uneasy about the finality of such a decision. I have since heard that the Church Handbook of Instruction/Church policy specifically speaks against sterilization. Is this true? Is it wrong to have a vasectomy and/or my tubes tied? I appreciate your response.
Kel
________________
Hi Kel –
The Church discourages surgical sterilization but makes an exception for health concerns. Church Handbook of Instructions, book 2, section 21.4.15, reads as follows:
Surgical Sterilization (Including Vasectomy)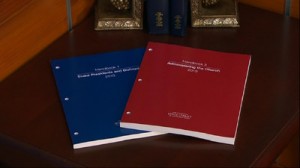 The Church strongly discourages surgical sterilization as an elective form of birth control. Surgical sterilization should be considered only if (1) medical conditions seriously jeopardize life or health or (2) birth defects or serious trauma have rendered a person mentally incompetent and not responsible for his or her actions. Such conditions must be determined by competent medical judgment and in accordance with law. Even then, the persons responsible for this decision should consult with each other and with their bishop and should receive divine confirmation of their decision through prayer.
Sincerely,
Gramps