Dear Gramps,
When we came to earth, we went through a veil which made us completely forgot our pre-life in heaven. Thus, on earth we can only rely on Holy Ghost whispering for our testimony. However, Jesus' case might be a little bit different. I assume He knew and remembered his pre-life with Heavenly Father. Because if not so, how could He teach people the true Gospel? So, in my humble opinion, it is easier for Jesus to follow Heavenly Father's commandments because He already experienced the blessings in pre-life and still remembered how great it was. No matter how severe His trials on earth, He knew that it's nothing compared to the eternal blessings. But for us, we haven't experienced the eternal blessings yet. That's why sometimes we have big difficulty in following our Savior. The temptation around us seems too good to be ignored. So, what do you think about my thoughts? Is it wrong or correct or what?
Thank you
Joned, from Indonesia.
Joned,
When we have the perspective of eternity, none of us would sin.
Did Christ remember His premortal life and mission? Yes!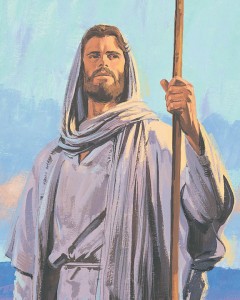 So, how can Christ be truly tempted and in so doing, be able to understand the rest of us? Because of the weakness of the flesh.
Galatians 5:17
17 For the flesh lusteth against the Spirit, and the Spirit against the flesh: and these are contrary the one to the other: so that ye cannot do the things that ye would.
How was the Savior tempted? We read that He was tempted with food, to tempt God to save Him, and riches if He would worship Satan.
How did the Savior resist? He knew, understood and used the scriptures – just as we are taught to do.
Do you think that turning stones into bread after fasting for 40 days wouldn't be tempting? That's the nature of this mortal body.
Mosiah 3:19
19 For the natural man is an enemy to God, and has been from the fall of Adam, and will be, forever and ever, unless he yields to the enticings of the Holy Spirit, and putteth off the natural man and becometh a saint through the atonement of Christ the Lord, and becometh as a child, submissive, meek, humble, patient, full of love, willing to submit to all things which the Lord seeth fit to inflict upon him, even as a child doth submit to his father.
Find ways to show how you and Jesus are alike, instead of how you are different. We like people who are like us. We grow relationships with others who are like us. We don't grow relationships with people who are too distant from us.
Gramps