Question
Gramps,
My wife and I were married in the temple about a year ago and a question came up this morning of all times. Are bikini's still okay to be worn? I say no, but she is persisting that I am wrong. Please clarify.
Richard
Answer
Dear Richard,
In all my years I've never known of a time when they were "okay."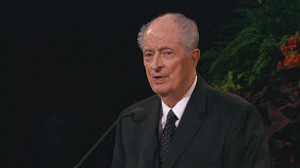 May I quote what Robert D. Hales a former General Authority had to say on the subject?
"In sports, recreation, and all aspects of our lives, we need to practice the principle of modesty.

"Modesty is a gospel principle that applies to people of all cultures and ages. In fact, modesty is fundamental to being worthy of the Spirit. …

"… When we recognize our bodies as the gifts they are and when we understand the missions they help us fulfill, we protect and honor them by how we act and dress.

"In everyday living, immodest clothing such as short shorts, miniskirts, tight clothing, shirts that do not cover the stomach, and other revealing attire are not appropriate" (Robert D. Hales, "Modesty: Reverence for the Lord," Ensign, Aug. 2008, 34–35).
Attitudes concerning dress and modesty seem to lean more towards a worldly view. It seems more and more are attempting to push to see how far they can go instead of following the counsel of our leaders.
Gramps