Question
Gramps,
Your article posted on July 30, 2013, about the Garden of Gethsemane contained a picture of the Savior in the Garden. Can you tell me more about the source of that picture? Your help is greatly appreciated!!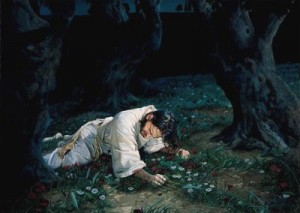 Rand
 Answer
Rand,
It's a beautiful painting isn't it? The artist in question is Liz Lemon Swindle.
According to information I can find about her, she started painting in first grade. She was encouraged by her father who proudly displayed her work on their refrigerator.
In the 1980's she tutored under renowned wildlife artist, Nancy Glazer. Her paintings of wildlife soon grew into paintings of her children, though, according to her, she was never quite sure if there was much of a difference.
In 1992, she decided to pursue a different genre, paintings of her faith. Her works can now be seen all over the world. Her paintings are held in corporate and private collections and have been featured in countless magazines and articles.
In describing her journey she has said:
"The Lord has a plan for our lives even if we don't always recognize it. What I thought were dead ends and failures were actually stepping-stones, each one lifting me closer to God."
She and her husband have 5 children and 15 grandchildren.
You can find more of her work here.
Gramps