I teach gospel doctrine and recently taught Peter's words on Celestial Marriage. One gentleman in the class pulled me aside afterwards and told me that celestial marriage trumped all laws of the gospel. I asked what he meant and he said that D&C 132:19 specifically states that outside of murder a person can do anything he wishes and still be allowed exaltation. I'm not sure how to answer this, I know he's wrong, but the text does lend itself to that thought. What are your suggestions?
Shelia
______________
Shelia, first let me up the ante by adding verse 26 in the mix, as it completes the perspective shared by your errant student. D&C 132:19 & 26 read as follows:
"And again, verily I say unto you, if a man marry a wife by my word, which is my law, and by the new and everlasting covenant, and it is sealed unto them by the Holy Spirit of promise, by him who is anointed, unto whom I have appointed this power and the keys of this priesthood; and it shall be said unto them—Ye shall come forth in the first resurrection; and if it be after the first resurrection, in the next resurrection; and shall inherit thrones, kingdoms, principalities, and powers, dominions, all heights and depths—then shall it be written in the Lamb's Book of Life, that he shall commit no murder whereby to shed innocent blood, and if ye abide in my covenant, and commit no murder whereby to shed innocent blood, it shall be done unto them in all things whatsoever my servant hath put upon them, in time, and through all eternity; and shall be of full force when they are out of the world; and they shall pass by the angels, and the gods, which are set there, to their exaltation and glory in all things, as hath been sealed upon their heads, which glory shall be a fulness and a continuation of the seeds forever and ever.
Verily, verily, I say unto you, if a man marry a wife according to my word, and they are sealed by the Holy Spirit of promise, according to mine appointment, and he or she shall commit any sin or transgression of the new and everlasting covenant whatever, and all manner of blasphemies, and if they commit no murder wherein they shed innocent blood, yet they shall come forth in the first resurrection, and enter into their exaltation; but they shall be destroyed in the flesh, and shall be delivered unto the buffetings of Satan unto the day of redemption, saith the Lord God."
Section 132 can be difficult to understand because there are three distinct but related principles taught: celestial marriage, polygamy, and exaltation. While reading this revelation it is essential to know what principle is being taught and the bounds placed on each. For instance, when this revelation was first recorded, it was primarily to teach the principle of polygamy, explaining how the Patriarchs were justified in that practice. Additionally, it incorporated the practice in the lives of the saints. When the Manifesto came out in 1890, instead of replacing this revelation whole cloth, it supplanted only those verses that dealt with polygamy; other verses continue to have great doctrinal relevance to us today.
Similarly, the principle of celestial marriage includes additional teachings on the steps necessary for exaltation. You'll note that both of those verses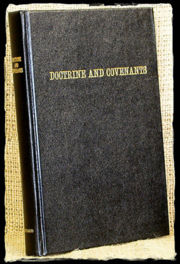 above mention that not only is the man sealed, but he is also sealed by the Holy Spirit of promise. This sealing is the ratification of ordinances, from baptism to all temple ordinances. The Holy Spirit of promise allows for wiggle room in various hypotheticals that get tossed our way. "Suppose a couple enter the temple unworthily and are sealed. It is recorded in your books, and so that couple is judged on the merits of that ordinance (D&C 128:6-9). Does that mean that this couple is exalted?" Of course we say no, because if they don't repent then the ordinance was never valid. The underlying doctrine is the one explained in D&C 132, that the ordinance does not bring exaltation unless it is ratified by the Holy Spirit of Promise.
The false teaching that celestial marriage gives a couple a free pass (with the exception of blasphemy against the Holy Ghost) is dangerous and at least several decades old. It ignores the dangerous effects of sin, even for those whose lives have been sealed up in God and Christ. Joseph Fielding Smith fought this pernicious doctrine. "[This] is the most abused passage in any scripture," he starts as he clarifies its meaning:
"So we must conclude that those spoken of in verse 26 are those who, having sinned, have fully repented and are willing to pay the price of their sinning, else the blessings of exaltation will not follow. Repentance is absolutely necessary for the forgiveness and the person sinned must be cleansed. …
Here is something which those who contend that the Lord has granted immunity from their sins to some, if they have received certain sealings by the Holy Spirit of promise, have overlooked in this passage. I call attention to these two things. If covenants are broken and enormous sins are committed, but not unto death, there are certain punishments to be inflicted. The mere confession is not enough; the sinners are: 1—to 'be destroyed in the flesh'; and 2 – to 'be delivered unto the buffetings of Satan unto the day of redemption.'
Who in the world is so foolish as to wish to sin with the hope of forgiveness, if such a penalty is to be inflicted? No one but a fool! (Doctrines of Salvation 2:95-96)"
-Gramps