Hi Gramps,
I left home for college three years ago, taking up a religious studies major. My family is one of strong faith in the LDS church, and were concerned when I chose not to go on a mission. They were patient with my faith struggles because of my diligent search for truth. They were confident that my search would lead me back into the church but it took me to the Baha'i Faith instead. My family feels wounded, that I have betrayed God. I have done all I can to assure them I am acting to the best of my ability, using the tools God gave me. It is to the point where I fear losing my family because of where my search for meaning has taken me. How can I help my family see that I am still abiding by my conscience, just like they taught me? Thank you.
Walker
________________________________________________
Walker,
If I read you correctly, you are concerned about losing your family, and you want to convince them that you are following your conscience in your search for meaning and religion.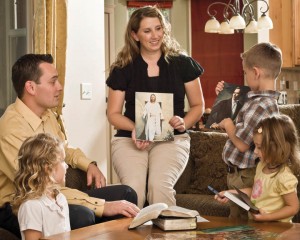 In Gramps' experience, LDS families rarely disown their children for leaving the faith for another. Your family might mourn your departure from the faith of your fathers, but that's to be expected. They love you. What kind of love would they have if they saw you leave their generations-long tradition and felt nothing? My guess is that they won't disown you; more likely they will keep pestering you to go to Church with them whenever you visit. Simply telling them that you are following your conscience to the best of your ability is probably the best way to try to communicate that fact to them.
Now that Gramps has answered your question. allow me the privilege of age in telling you a parable:
A young man grew up in a society of arranged marriages. His parents had chosen his bride from his early years, a sweet neighborhood girl. But the young man had a mind of his own, and his tastes led him in other directions. As a very young man, he left his home, foresaking his promised bride, and told his family he would find a wife for himself — one of his own choosing. And away he went.
The young man spent almost a decade traveling from city to city, practicing his trade and meeting women. He found several he liked quite well, and they seemed to like him well enough, but each time the fit just wasn't there. The young man thought that maybe he was being too picky. But for him, none of the girls he found ever seemed right. His relationships never worked out as he had hoped.
Finally, in discouragement, the young man returned home. There he remade his acquaintance with his former promised bride — and to his astonishment, he found in her the very woman he had been searching for over the past decade!
The moral of this parable is: Don't overlook the girl next door just because she's a neighbor. You might well find that your perfect match has been right under your nose the whole time.
-Gramps