This scripture (at face value) seems to imply that some of them would not die until He comes back again (second coming). What does it really mean?
Joe
___________
Dear Joe,
You pretty much have the correct meaning.
The apostle John was transfigured and never tasted death. We learn this in 3 Nephi 28: 6-8
6 And he said unto them: Behold, I know your thoughts, and ye have desired the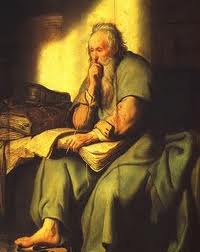 thing which John, my beloved, who was with me in my ministry, before that I was lifted up by the Jews, desired of me.
7 Therefore, more blessed are ye, for ye shall never taste of death; but ye shall live to behold all the doings of the Father unto the children of men, even until all things shall be fulfilled according to the will of the Father, when I shall come in my glory with the powers of heaven.
8 And ye shall never endure the pains of death; but when I shall come in my glory ye shall be changed in the twinkling of an eye from mortality to immortality; and then shall ye be blessed in the kingdom of my Father.
-Gramps