Dear Gramps,
I was curious about a phenomenon called volcanic winter. My understanding of it is that when a big volcano like the one in Yellowstone National Park, erupts, it spews ash up into the atmosphere, spreading around the globe and killing plant life and freezing the planet, like the famed nuclear winter of the cold war. I was curious, does anything mentioned in Last Days Prophecies signal anything of this nature?
Thank you!
Ryan
Dear Ryan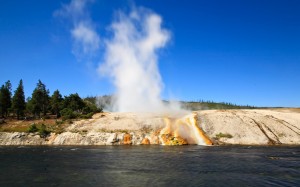 Super volcanoes, (like the one you are talking about in Yellowstone) asteroid strikes, nuclear holocaust, and several other things that fall in to the the category of world-wide disaster have all been linked Last Day Prophecies.
This is a natural human tendency to try to understand the hows and whys of the destruction that are written in the scriptures that will come to past in the end of times. While the scriptures paint vivid pictures of the effects we must remember two things. One we do not know how much is symbolic and how much is going to be literal. And two we aren't told the how.
So while we can imagine and try to fill in the blanks with phenomenon we do know about ultimately once we leave the scriptures we are guessing. And that is what any comment about super volcanoes would end up being. Sure it could fit some aspects of the events in question.
Gramps