If Jesus had already ascended to heaven, who baptized Nephi? 3rd Nephi, Chapter 19, verse 11.
Joan
___________
Joan,
The scriptures don't say who baptized Nephi in 3rd Nephi. What they do say, is that all 12 of the disciples were given the authority to baptize (3 Nephi 11:22, 12:1), so Nephi could easily have been baptized by one of them.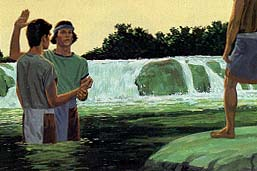 The first modern baptisms can serve as a model for Nephi's baptism. When John the Baptist passed the authority to baptize to Joseph Smith and Oliver Cowdery, he didn't stick around to baptize them either. Joseph had to baptize Oliver, and Oliver had to baptize Joseph (Joseph Smith – History 1:70).
This pattern is in accordance with the Lord's miraculous practices. Others gather the containers of water, but He turns that water to wine; others must roll away the stone and unwrap Lazarus, but only He calls the dead to rise; others perform the physical act of baptism, but He ordains them to have the proper authority. The Lord gifts us with the grace necessary to follow Him, and invites us to exercise our agency in keeping His commandments.
-Gramps