A friend told me that she understood that the one third part host that was held back because of their agency was all men. She said she was also told that this is the reason plural marriage will be a part of the Celestial due to a lack of worthy men. Would you please share your wisdom on this matter.
Jeff
___________
Jeff, my wisdom in this matter is to know what has been revealed in the matter and what has not. D&C 29:36-7 clarifies the symbolism of Revelation 12:4. "[T]he devil was before Adam, for he rebelled against me, saying, Give me thine honor, which is my power; and also a third part of the hosts of heaven turned he away from me because of their agency; And they were thrust down, and thus came the devil and his angels".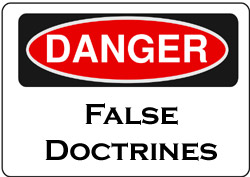 We do not know who these fallen angels are. We don't know if they are men or women. We simply know that they chose in the full light of the pre-mortal existence to follow Satan rather than Christ.
Should something like this arise in the future where someone proposes doctrines with which you are unfamiliar, think about whether you hear it regularly taught at church. If not, that's a pretty good indication that what you are hearing is not really a teaching of the church or our prophets. You can then follow-up by asking for some sources. Ultimately, the Standard Works are the standard by which we measure all teachings as doctrinal.
-Gramps