So, there is this person that I'm having a debate with on youtube and he wants a scripture from the bible stating that we have eternal intellegences in our bodies. Do you know of a scripture in the bible that supports this?
Makelle
____________
Makelle,
I'd like to start off first by mentioning something about online debates.
A missionary shared with me an experience he and his companion had with some proselyters from another church. They saw each other and made a bee line to meet up with Bibles open. A crowd gathered as both parties cited passages right and left. When they finished, the Elders felt victorious as the other missionaries left. They then turned to their ready-made audience to see who would like to learn more about the gospel of Jesus Christ and found that no one wanted to engage them for fear of similar treatment.
Typically those who engage in online "debates" have already made up their mind and will not be convinced no matter how well formed the arguments are. They tend to be fruitless in changing a poster's mind. On the other hand, a mutually respectful dialog can aid silent readers who have yet to decide one way or the other.
Now to your main question.
When you look for the origin of LDS doctrine, you must remember that we are a Restoration Church built on revelation. Our theology was not created based solely on interpretations of proof texts in the Bible. That also means that it doesn't change because there's a new, more popular way to read a particular passage. The doctrine that we existed as spirits before we were born is not found in a single, well-structured argument in the Bible. If it was, more Christians would have the same teaching as well. This doctrine is founded in modern revelation, and when we take that knowledge to the Bible, we find it as a common teaching only tangentially referred to (as though all parties were well aware of it).
The strongest argument for pre-mortal spirits is found in Abraham 3. It's also where the term intelligence is coined in this context.
"Now the Lord had shown unto me, Abraham, the intelligences that were organized before the world was; and among all these there were many of the noble and great ones; And God saw these souls that they were good, and he stood in the midst of them, and he said: These I will make my rulers; for he stood among those that were spirits, and he saw that they were good; and he said unto me: Abraham, thou art one of them; thou wast chosen before thou wast born."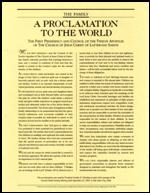 This doctrine has been reaffirmed recently by the First Presidency and the Quorum of the Twelve in The Family: A Proclamation to the World. "In the premortal realm, spirit sons and daughters knew and worshipped God as their Eternal Father and accepted His plan by which His children could obtain a physical body and gain earthly experience to progress toward perfection and ultimately realize their divine destiny as heirs of eternal life."
We then turn to the Bible and find references to the premortal existence scattered throughout. We read that before Jeremiah was born, he was an acquaintance of the Lord (Jer 1:5). We see the Apostles wondering if a blind man committed a premortal sin (John 9:2). Additionally, we see the war in heaven in a new light. We see that when Michael led the hosts of heaven against Satan and his angels, it was the premortal Adam leading the premortal us against the rebellious (Revelation 12:7). It also gives us additional insight into the principle of foreordination (predestination). Abraham and his peers were foreordained to be rulers because the Lord saw in the premortal lift that they were good.
Let those that believe only in the Bible limit themselves in trying to prove uniquely LDS beliefs with only the Bible. We have no need to constrain ourselves to the same restrictions. We have gained precious truths through modern revelation, and it would serve us well to study those revelations to learn our doctrine.
-Gramps