Dear Gramps,
In reference to Alma 13, particularly verse 8, how could the Spirits in the pre-earth life receive or give ordinances. In this case of the priesthood, I assume to be the ordinance of laying on of hands.
-Opie
____________
Opie,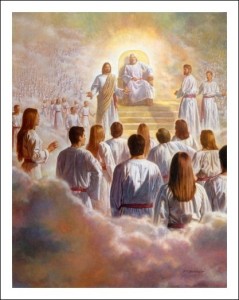 We know very little about the mechanics of the pre-earth life. We do know from the verses you mention that there is indeed a fore-ordination to the priesthood. In pondering such things, we need to keep in mind what we know and what we don't know. We know that such a fore-ordination took place, and that spirits do not have physical bodies. We also know that spirit is "finer matter" (D&C 131:7-8). We don't know how spirits interact with each other, or if the mechanism for ordinances in this life are the same or even analogous to fore-ordinances in the pre-earth life.
So the answer to your question has not been revealed, but you can rest assured that whatever the mechanism the fore-ordinations really happened.
Gramps