Dear Gramps,
You recently addressed a question about the serving of the sacrament in meetings. That made me think of my youth and our church services before the block program we now have. Why was the sacrament passed during the Sunday School part of our meetings as well as later that day at the Sacrament meeting? When I think about this it seems a strange thing to do now but it was routine back then. I ask this question of others and they also laugh and wonder the same thing as it doesn't make sense to us.
Just Wondering
______________
Just Wondering,
I agree, and I recall those days myself. From our perspective today it certainly was a confusing arrangement, but I think it is a rather solid example of how even the Church is learning and growing as a whole over time. Remember that we (the Church) have yet to be around even 200 years. As far as religions go, we're still the new kid on the block, so to speak.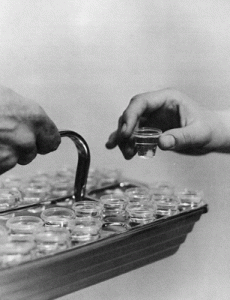 Add to that the fact that most of the church leadership is a lay ministry, or filled by volunteers called to the position. Even the General Authorities have had little experience during their lives running a religion prior to their callings.
Many other religions have programs, even some collegiate courses and degrees, that bring someone up to be a religious leader. There is no such program in the LDS church, nor will there ever be. We believe that a man must be called of God. Not by education or degree.
Because of this, I can look over the years of the Church's operation and see it becoming more organized, the operation more efficient and streamlined. Who knows, perhaps in the years to come there will be another change to the meeting format, and our current arrangement will look odd and backward by comparison.
It's all about perspective.
-Gramps