Why don't we see Seventy Quorum in wards any more?
Stephen
_____________
Hi Stephen,
This is a great question. There really isn't much said from the Prophets and Apostles regarding the discontinuance of the Seventies at local levels within Stakes. This is the only information I could find to answer your question, "Godly Characteristics of the Master,"
Quote:
Now, brethren, I would like to read to you a statement recently approved by the First Presidency and the Quorum of the Twelve:
"In harmony with the needs of the growth of the Church across the world, the First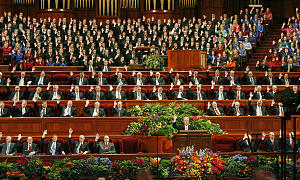 Presidency and Council of the Twelve Apostles have given prayerful consideration to the role of the stake seventies quorums in the Church and have determined to take the following action relative thereto:
"1. The seventies quorums in the stakes of the Church are to be discontinued, and the brethren now serving as seventies in these quorums will be asked to return to membership in the elders quorums of their wards. Stake presidents, in an orderly fashion, may then determine who among such brethren should be ordained to the office of high priest.
"This change does not affect the First Quorum of the Seventy, members of which are all General Authorities of the Church.
The important matters of this quote are:
1. Approved by the First Presidency
2. Need and Growth of the Church
3. Prayerful Consideration
I really wish I could provide you with more information, however this should suffice.
Gramps