I am teaching about Peter and Cornelius today. I thought it would be interesting to teach what specific animals and birds they were told not to eat under the Law of Moses.
Don
___________
Don,
You can find the Mosaic list of clean and unclean animals in Deuteronomy 14:3-20. You may want to look at some modern translations and see if you can get a more accurate list of animals.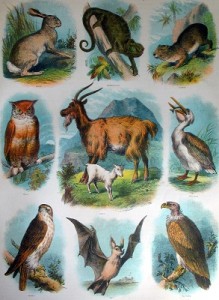 As it is in the King James Version, clean animals that you can eat are ox, sheep, goat, hart, roebuck, fallow deer, wild goat, pygarg, wild ox, chamois, some fish, and some birds.
Unclean animals that you cannot eat are camel, hare, coney, swine, seafood, eagle, ossifrage, ospray, glede, kite, vulture, raven, owl, night hawk, cuckow, hawk, little owl, great owl, swan, pelican, gier eagle, cormorant, stork, heron, lapwing, and bat.
The Lord even provided a rule of thumb in case you came across somthing that wasn't explicitly listed in either group. Clean animals have cloven hooves and chew cud, if either element is missing it is unclean. Clean fish have scales and fins, everything else is unclean. Every creeping thing that flies is unclean. Any bird that's not in the unclean list is clean.
As you know, Peter saw some of these unclean animals in his vision and was told, "What God hath cleansed, that call not thou common." Every year since then, I have enjoyed an uncommonly delicious Easter ham.
-Gramps