Dear Gramps,
I am a member of a convert family and was baptized into the church with my husband and son one year ago. As I have attended other people's baptisms and blessings, I have noticed that the mother or wife of the family member being baptized or blessed will often sit with a steno pad and take notes of the words of the blessings that are given. I hadn't really thought too much about this until my husband was recently ordained to the Melchizedek Priesthood and when he received his blessing, one of the other women who was also witnessing this looked at me in shock, and I realized that perhaps I should have been writing down what the words of his blessing were. Can you please explain to me why people do this and where this practice originated? Also, is it done througout the church, or is it just something that people in my Ward are doing?
Thank you!
Michelle
____________
Michelle,
While it's not unheard of for family members to record blessings in the church, I can't say for certain how common it is.
It probably originated with the early years of the church when Joseph was commanded to keep accurate records of as much as possible. Not in so many words, of course, but ever since then the LDS church has been a record-keeping organization.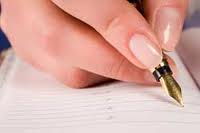 We certainly record Patriarchal Blessings, and it is also acceptable to record a baby's blessing, ordination to the Aaronic/Melchizedek Priesthood, and father's blessings for significant events like prior to serving a mission, going to college, or even prior to being sealed in the temple.
I would suppose using a digital recorder in the room would be less obtrusive than writing on a note pad. Plus the digital recording would preserve the wording more precisely. Most recorders I know of have a very good microphone, so being in the room should be sufficient. Once at home, the recording can then be transcribed to writing.
Only Patriarchal blessings are recorded and kept on file by the church itself. Any other blessings that are recorded are within the purview of the family unit for safekeeping.
-Gramps