Dear Gramps, I'm sixty and over the years have had a difficult time getting on with people. I have been coping with several challenges – not disabilities. Among them: depression, PTSD, ADD, OCD, dyslexia and processing issues. Currently I have a difficult time going anywhere, including church. I just feel more comfortable in my home. Since it's difficult for me to serve in the usual capacities, can I still be worthy to receive my calling and election? I believe,pay an honest tithe, read the scriptures and so on but I would do more if I felt I could.
Thanks, Bob
______________
Bob, my sympathies go out to you while you face these difficulties. I want to explain to you what it means to have your calling and election made sure and how to receive it.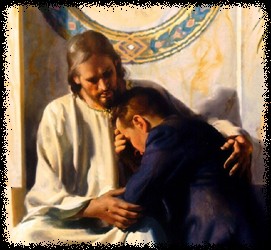 When your calling and election is made sure, the Savior personally accepts you and your life's devotion to Him. It is the Lord telling you, "well done thou good and faithful servant, thou hast been faithful over a few things; I will make thee ruler over many." This is a grand theophany that the faithful are promised either in this life or the next.
This great blessing comes at a price. In order for the Savior to accept your life's devotion, you must devote your life to Him. If you want the Lord to refer to you as a faithful servant, you must serve Him. God the Son appears to those who already know Him.
I don't think any of this is news to you. I think you've convinced yourself that you find out how good your life was when Christ tells you, either as the Final Judge or the Second Comforter. This is true, but you can find out before then. Our Father in Heaven expects us to counsel with Him in our daily endeavors. Through this counseling we can feel His approbation and know that the course we are pursuing is in accordance with the His will.
The Holy Ghost can assure an individual that he is on the path of life and salvation. The Spirit can also reveal where that person is lacking and what he should work on next to please God. I advise you to make it a matter of prayer to know if the Lord approves of your life. Ask your Heavenly Father what you should work on to be the son He would have you be. If you struggle to get an answer, enlist the help of your Bishop. Meet with him and see if you don't get a revelation through such counsel.
In short, you can have your calling and election made sure, which is hearing your Heavenly Father's approbation. I can't tell you if Heavenly Father approves of your service. I can't tell you if you've done "enough" or if you need to make additional sacrifices. I can't tell you if you need to continue attending meetings despite the difficulty or if you can simply worship in the comfort of your own home. God has this information and will share it with you if you ask.
-Gramps